2017 Ford Escape
2017 Ford Escape v. 2017 Nissan Rogue

The crossover SUV is a fantastic family vehicle, featuring the seating capacity to fit your family but with the fuel economy and handling of a much smaller vehicle. There is no better combination for you and the family. The 2017 Ford Escape and the 2017 Nissan Rogue are a couple of the most popular crossover vehicles available today. Get the SUV that has room for your family but still handles like a sedan. Here at Wiscasset Ford, our goal is to help you through every step of the car-buying experience. This is why we are looking to help you find the perfect crossover SUV for the family. Is it the 2017 Nissan Rogue or the 2017 Ford Escape? Find out which crossover fits your family's needs better.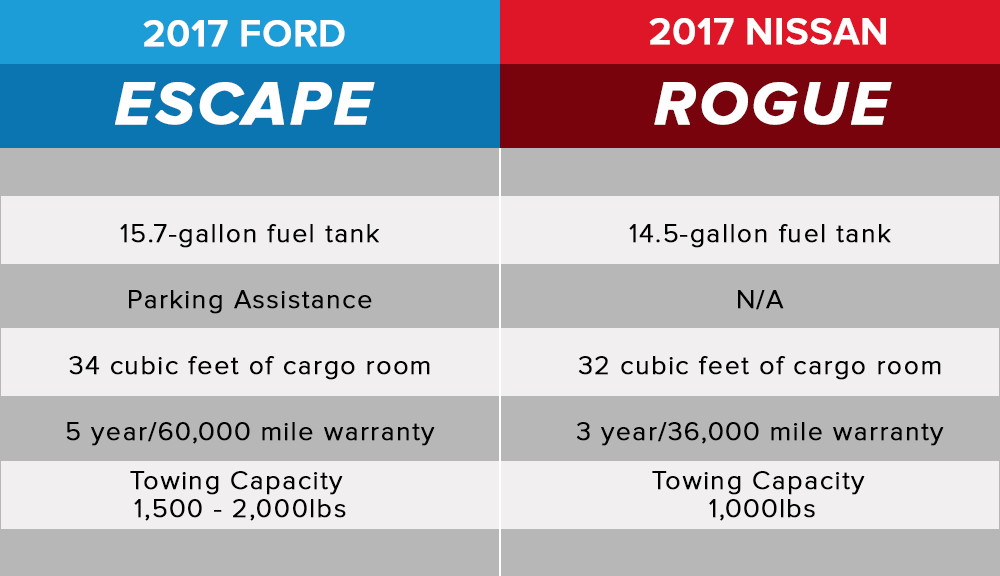 When it comes to driving long distances, you need a vehicle with a fuel tank big enough to get where you need to be. When it comes to this fuel tank size, the 2017 Ford Escape has a small advantage. The Escape has a 15.7-gallon fuel tank, while the Rogue has a slightly smaller 14.5-gallon tank. The Escape also outperforms the Rogue when it comes to towing by 500 lbs. The Escape doesn't just benefit you on the way to where you are going, but it also assists you as you leave. The Ford Escape brings you available parking assistance to help you get into that spot easier than before. Parking can be annoying and getting into that spot can be such a pain, which is why, unlike the Nissan Rogue, the Ford Escape gives you the available parking assistance.
The Ford Escape also presents you with more cargo capacity when the all the seats are up. The Escape will present you with 34 cubic feet of cargo room while the Nissan Rogue only brings you 32 cubic feet of cargo room with all of the seats up. The SYNC 3 infotainment system gives the Escape the advantage of having destination guidance, destination download, and an airbag deployment notification system. The Rogue has none of the features listed above. The roadside assistance program of Ford's warranty is better as well; it is good for 5 years or 60,000 miles, whichever comes first. The warranty will only last 3 years or 36,000 miles if you purchase a Rogue.
Sales Hours
207-882-9431
| | |
| --- | --- |
| Monday | 8:00 am - 8:00 pm |
| Tuesday | 8:00 am - 8:00 pm |
| Wednesday | 8:00 am - 8:00 pm |
| Thursday | 8:00 am - 8:00 pm |
| Friday | 8:00 am - 8:00 pm |
| Saturday | 8:00 am - 8:00 pm |
| Sunday | Closed |